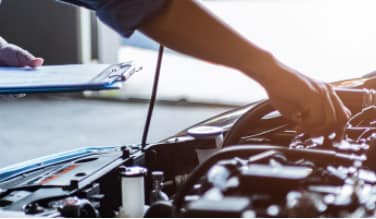 Let's Keep Your Vehicle In Its Best Condition
Chrysler, Dodge, Jeep and RAM vehicles are high tech, advanced machines that offer the optimal blend of comfort, efficiency, performance and luxury. Whether you're enjoying the luxury of your Chrysler, the toughness of your RAM, or the adventure of your Jeep, one thing is for certain– whatever you drive; it'll need to be serviced eventually.
As with any vehicle, proper maintenance is the only way to maintain the performance and reliability of your Chrysler, Dodge, Jeep, or RAM (CDJR). Without timely CDJR maintenance services, vital components like your engine would begin to break down, and not only cause problems, but also create costly repairs that are avoidable with proper maintenance.
Come with us as we talk about the importance of proper CJDR maintenance and where to go for the most trustworthy service in town.
Maintenance Is Key
While your particular maintenance schedule may differ from the next vehicle, depending on your engine and the use of your vehicle, Jeep maintenance, Dodge maintenance, Chrysler maintenance has one thing in common– just like any other internal combustion engine, you'll need regular oil changes.
Your oil is responsible for cooling and lubricating the hundreds of moving parts inside your engine. Over time, as it is exposed to extreme temperatures and removes contaminants from your engine, it will eventually need to be changed. There are various types of oil; conventional, synthetic blend and full synthetic:
Conventional – Conventional oil has been used for generations to provide adequate protection and lubrication for your engine. However, with the high compression, high performance engines of today, conventional oil often does not offer enough protection or lubrication for the demands of your engine.
Synthetic Blend – Synthetic blend oil is often a conventional oil base that features synthetic additives or detergents. Often aimed to help an aging engine that was designed for conventional oil, synthetic blend oil offers more protection than conventional oil.
Full Synthetic – Full synthetic oil is made of manmade compounds and offers the highest degree of protection against friction and heat. Used in high performance engines, this oil offers optimal protection and needs to be changed less frequently.
It is recommended that you change your MOPAR oil every 7,500 miles.
Trust The Experts At Gengras CDJR
At Gengras CDJR, we welcome you to bring your Chrysler Jeep and Dodge vehicles to our service center for all of your maintenance and repair needs. Staffed by ASE certified technicians, only the most qualified technicians touch your vehicle, and they use genuine MOPAR repair replacement parts to preserve the performance and reliability of your vehicle.
Striving to offer you the best maintenance services at the most competitive prices, we even feature maintenance specials that offer extra savings on some of your most essential maintenance services. .