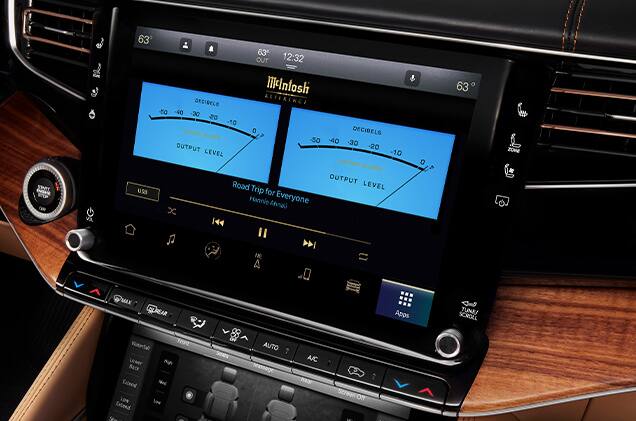 2022 Jeep Grand Wagoneer Offers Reference Audio by McIntosh
The details from Gengras CDJR of East Hartford, CT
For those that demand the finest in audio reproduction, here's some exciting news: the Jeep 2022 Grand Wagoneers will be available with McIntosh's new MX1375 Reference Entertainment System (RES). For over seven decades, McIntosh has been on the leading edge of high-end home audio with sound systems handcrafted in Binghamton, NY.  With a similar pedigree, Jeep automobiles have provided Americans with reliable 4x4 transportation since the 1940s and today virtually define the genera. The collaboration between these two famous American icons represents the finest of American engineering distilled into one amazing package.

Is this audiophile-level audio?
It's more than just that! It started with the McIntosh MX950 systems (available on select 2021 Jeeps) which were built to provide not just great sound reproduction but an audio experience unavailable in any other vehicle made. The new MX1375 system is an extension of that philosophy.

"We understand that customers don't just want great sound," said Charlie Randall, President of McIntosh Laboratory, Inc. "They want to get a full sensory experience. And that's why it was so important that we left no stone unturned to deliver a true McIntosh Entertainment System for Jeep. We're thrilled to bring our brand to a whole new group of people who may never have experienced McIntosh before."

Is it as high performance as the McIntosh home equipment?
Yes! To ensure the McIntosh luxury home audio experience was replicated in the vehicle, designers from both companies worked hand-in-hand to fuse both form and function into the MX1375 Reference Entertainment System. Engineers went back and forth constantly between the test vehicle and the McIntosh Reference Room itself to ensure a truly authentic McIntosh experience. The resulting system is revolutionary.

What are the details of the MX1375 system?
The McIntosh MX1375 Reference Entertainment System will be available exclusively in the 2022 Grand Wagoneer. The MX1375 System employs 23 specifically tuned speakers, including one of the highest performing 12-inch subwoofers in the industry, and is powered by a 24-channel 1375-watt amplifier. Exclusive to the MX1375 Reference Entertainment System is unique Adaptive 3D Surround Processing capabilities for an immersive listening experience.

An important feature of the MX1375 system is the incorporation of McIntosh's iconic styling cues, such as the metal ridged control knobs and large blue power meters that McIntosh gear is known for.
The 2022 Jeep Grand Wagoneers will be available at Gengras CDJR of East Hartford, CT
Both the 2022 Wagoneers and Grand Wagoneers will be available for the summer of 2022 and the folks at Gengras CDJR invite you to stay in touch concerning availability.

You are invited to visit their Jeep
inventory online
and, of course, call anytime (860-952-3085) for assistance with any automotive and truck needs you may have.