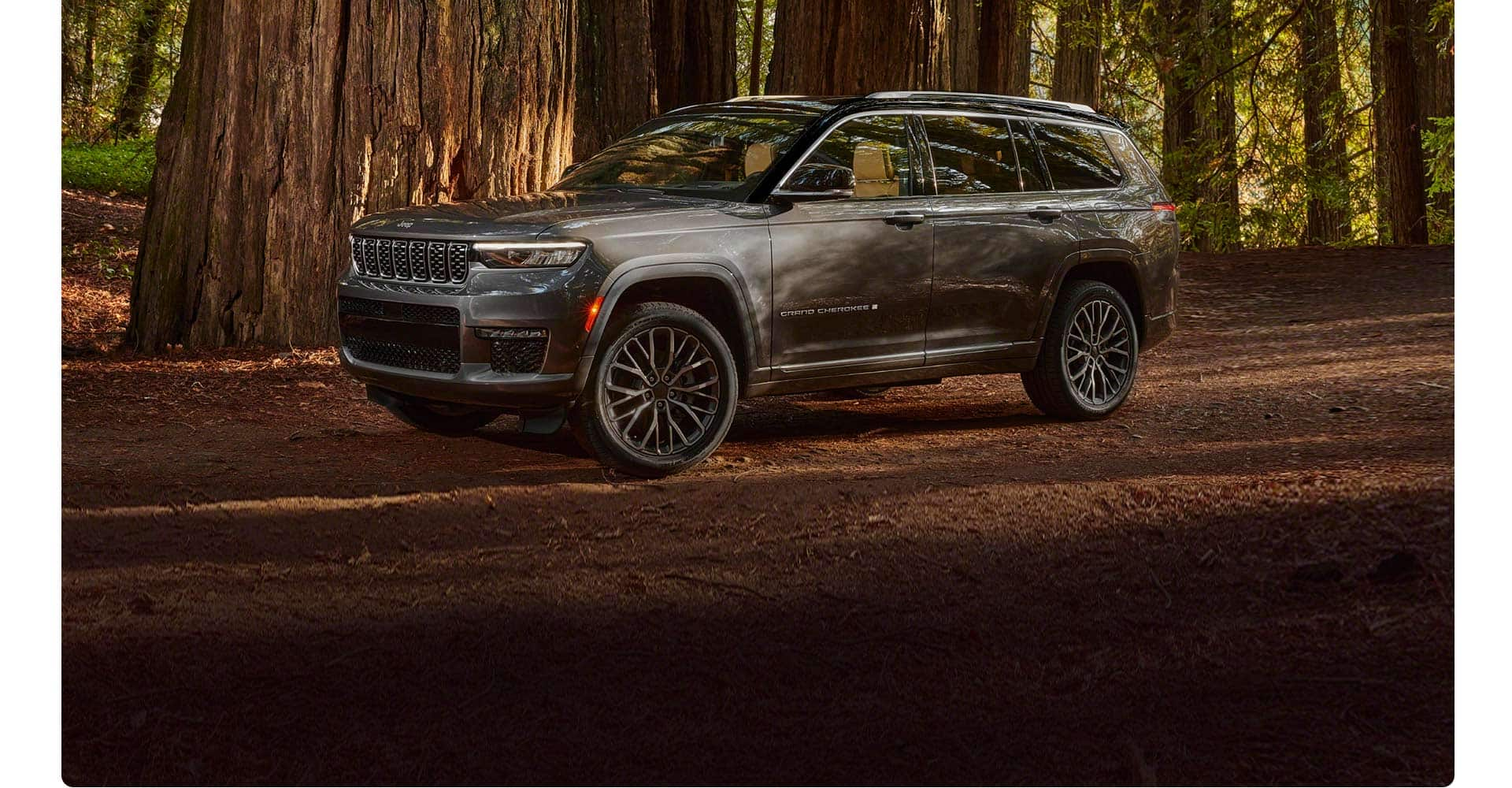 Capability of the All-New Grand Cherokee L
by Gengras Chrysler Dodge Jeep Ram, Hartford, CT
Gengras is excited about the All-New Grand Cherokee L and can't wait to show you all its capabilities! The Grand Cherokee is the most-awarded SUV ever, and this new model shows why. It boasts legendary 4x4 capability along with three rows of seating. Bring the extended family on your next off-road adventure! 
What is the Selec-Terrain feature of the 2021 Jeep Cherokee L?
Off-road capability depends on excellent traction. But what's needed for maximum traction on one surface is different than for another. The available Selec-Terrain gives the driver the power to choose the type of traction desired from four modes: Sport, Rock, Snow, Mud/Sand, and Auto. Sport mode is all about performance and fun, delivering more aggressive shifting and variably distributed torque to the wheels for a sportier driving experience. Rock mode uses evenly distributed torque and locking axles to allow you to crawl over rocky trails easily. Snow mode minimizes oversteer that can easily happen on slippery roads and gives the vehicle the extra traction needed. Mud/Sand mode makes adjustments for granular materials or viscous substances. It helps get your Cherokee L through the thickest slog or the sandiest dunes. Or concentrate on the road ahead and use Auto mode to let your Jeep automatically adapt and only engage the 4x4 all-wheel-drive system when it's helpful. Hill Descent Control is intended to automatically control your speed in low-speed off-road conditions, particularly going downhill. It automatically applies controlled brake pressure to manage the rate of your descent. 
What is the advantage of the Cherokee L's Quadra-Lift air suspension?
The Jeep Quadra-Lift air suspension uses air springs rather than traditional coil springs. This allows the vehicle to raise or lower up to 4.1 inches automatically. The Cherokee L lowers for highway driving to create a more aerodynamic profile for better fuel efficiency. Raising the vehicle during off-road excursions creates a greater ground clearance. If the driver prefers, they can choose from five different height settings. Selecting a lower setting when parking makes it easier to enter or leave the vehicle. Electronic adaptive dampening automatically adjusts the suspension to deliver either a comfortable ride or a firmer, sportier ride, depending on the mode and conditions. 
What other impressive capabilities does this Jeep Cherokee offer?
The 6.4L Hemi V8 on the SRT delivers 475 horsepower, while the supercharged 6.2L V8 engine on the Trailhawk accelerates from 0-60 in 3.5 seconds and produces 707 horsepower. Both can tow up to 7,200 pounds. There are three 4x4 systems to choose from: Quadra-Trac I, Quadra-Trac II, and Quadra-Drive II with rear electronic limited slip differential. Quadra-Trac I is a single-speed active transfer case using multiple sensors to pre-emptively calibrate torque distribution between the axles. All available torque is routed to the axle with the most traction when slippage is detected. Quadra-Trac II is similar to Quadra-Trac I but is a two-speed active transfer case rather than a one-speed. Quadra-Drive II boasts industry-leading capability that can sometimes eliminate slippage before it happens. 
Find out more at Gengras Chrysler Dodge Jeep Ram, Hartford, CT
Everyone at Gengras Chrysler Dodge Jeep Ram near Hartford, CT, can't wait for the All-New 2021 Grand Cherokee Ls to arrive in the second quarter of 2021. We're thrilled to be getting these in stock and can't wait to show you all of their incredible capabilities. In the meantime, we have a wide selection of other Grand Cherokees for you to come, explore and test drive.