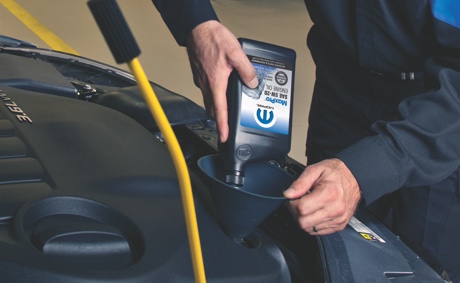 Jeep Oil Change Services
by Gengras Chysler Dodge Jeep Ram, Hartford, CT
If you never had the oil in your Jeep changed, it would eventually lead to complete engine failure. Other than losing your engine, there are so many benefits to changing your oil regularly. It is well worth the inconvenience and relatively minor expense. 
Why is clean oil important to my Jeep's engine?
With time, oil breaks down and becomes sludge, which becomes a problem when it builds up. Engine particles that result from normal wear and tear also build up in the engine's oil. Dust, dirt, and other foreign particles that enter the engine need to be cleaned out. The dirtier the oil is, the more it causes wear, decreasing the life of your Jeep's engine and causing corrosion. 
Why are lubrication and cooling important?
The better your Jeep's engine is lubricated, the less friction there is, and the less heat will be generated. Adequate lubrication helps keep your engine cooler and helps prevent overheating. Less friction also results in less wear on engine parts, prolonging the life of your Jeep's engine. 
Can regular oil changes save me money?
With insufficient lubrication and more friction, your Jeep's engine will have to work harder. This will have an impact on your fuel consumption, saving you money on gas. Many used-car buyers ask to see maintenance records. Documentation of a well-cared-for Jeep tells the prospective buyer that the engine (and other parts) are likely to be in good condition, increasing the resale value of your Jeep. 
What type of oil should I use?
Your Jeep's owner's manual gives details on what oil is best for your car. Some decisions about the type of oil are based on personal preference or your most common driving conditions. There are four general types of oils. Conventional motor oil, the most common (also sometimes referred to as regular oil), is derived from crude oil. It works well for most everyday driving. Synthetic oil consists of human-made artificial chemical compounds, but the base is usually distilled crude oil. It is quite a bit more expensive than conventional oil but lasts much longer. Synthetic blend is a combination of regular and synthetic, with a cost in-between the two and some added benefits of fully synthetic oil. High mileage oil is engineered to reduce oil leaks and consumption, thus reducing smoke and other emissions in vehicles with more than 75,000 miles. Another consideration is the oil's viscosity or weight, written as 10W30, where 10 is the viscosity (how well the oil flows) at cold temperatures, and 30 is the viscosity at warm temperatures. The first number (10 in this case) can range from 0 to 25, and the second number (30 here) can range from 20 to 50. What is best for your Jeep's engine varies by car and by season. 
How often should I change my oil?
Most cars with conventional oil need to be changed every 5,000 to 7,500 miles. Some engines with fully synthetic oil can go as long as 15,000 miles. Many new Jeeps have an indicator light to alert the driver when the oil needs changing. 
Gengras Chrysler Dodge Jeep Ram, Hartford, CT can help!
The service center at Gengras Chrysler Dodge Jeep Ram has the trained experts to help you choose the appropriate oil for your Jeep and driving conditions, and do the oil changes if you are not changing it yourself. They know what viscosity is best for you, and the benefits of different oil types. Trust them with all your service needs.