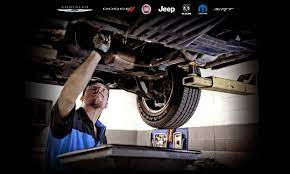 Scheduling regular Jeep® service is one of the most essential steps you can take as a Jeep owner, which is why our team here at Gengras Chrysler Dodge Jeep RAM is dedicated to making the servicing process as smooth and easy as possible.
When you need oil changes, tire rotations, or battery inspections in New England, make sure Genrgras is your first stop.
WHAT HAPPENS WHEN I SKIP REGULAR SERVICE?
There are many benefits to regular car service, like improved fuel efficiency and maintained vehicle value. When you skip service, you're not only missing out on the advantages, but you can have detrimental effects on the health, longevity, and wellness of your car, as well.
To start, regular car service helps to keep your vehicle safe. Our expert team will inspect your car for any indication of wear or damage that can be addressed before further issues develop. And that's another reason you'll want to bring your new Jeep in for regular inspections. When you skip inspections, you often end up having to pay a lot more for parts and materials down the line, so regular car care can save you money in the long and short term.
And if you're planning to sell or trade in your car in the future, it's essential to have a solid service history. The more comprehensive and documented your Jeep SUV history is, the more likely you'll see your vehicle's value returned to you.

Keep your Jeep SUV running right with routine service. Schedule an appointment today.